Rotary Indexing Parts Washers
Aquamaster RI
The Aquamaster RI rotary indexing industrial parts washers are designed for applications which require critical cleaning of parts with specific features such as blind holes, passageways, hidden cavities, and sensitive surfaces. Rotary indexing parts cleaning systems are intended for use in manufacturing cells, where floor space may be limited. The unique conveyor system allows part loading/unloading from one convenient location and parts can be unloaded manually or robotically.
Request a Quote
Let our team configure the right parts washer for your application.
Features
The following standard features are included on most Alliance parts washers. Standard features will vary by machine model.
The solution tanks on the Alliance parts washers are constructed of heavy gauge, Type 304 stainless steel for extended equipment life. Tank bottoms are sloped to allow for complete drainage.
A hinged, gasketed clean-out door on the solution tank provides access to the tank interior for periodic maintenance. The door frame is flush to the tank bottom to facilitate easy tank cleaning. The tank bottom is pitched to the drain on the opposite side to prevent residual water from draining out of the clean-out door.
The Firebar-style electric heating elements feature a flat surface geometry, which reduces scaling, coking, and degrading. Gas burner and steam heating systems are also available.
Operating at the correct solution temperature will optimize the cleaning performance and save on energy costs. A thermostat controller allows the operator to adjust the heat setting to achieve the desired operating temperature. Heating elements will automatically cycle on/off to maintain the set temperature.
With water-based parts washers, evaporation occurs naturally. Water make-up can be done automatically, eliminating the need for the operator to monitor the solution level. A level sensor actuates a solenoid valve when the solution level is low, allowing water to enter the machine. The pump and heat source will shut off to prevent damage until solution reaches adequate levels.
The split-style drain port is designed to allow complete drainage of the tank for periodic inspection and cleaning. An overflow port is also included.
E-Series models include rear tank access with a removable chip basket for coarse filtration.
Ambient blowoff removes gross amounts of moisture from parts. Air knives and/or air manifolds can be configured to be adjustable.
A vertical "seal-less" solution pump has no mechanical seals to wear out, and is mounted above the solution tank, minimizing maintenance and machine downtime.
Stainless steel nozzles have a standard NPT male thread and are screwed directly to interior spray piping. Stainless steel nozzles may be used in place of or in addition to PPRO spray nozzles.
Accessories
The following optional accessories can be purchased with most Alliance parts washers. Additional items may also be available.
The "Aqualescer" is an oil coalescer with stainless steel parallel plate design for removing floating oils from aqueous cleaning solutions and process tanks. These oil coalescers are also offered in mild steel construction for machine coolant tank applications. Five (5) standard Aqualescer models are available. Sizes range from 0.5 GPM to 3.0 GPM flow rates.
The "Aquaskim" belt-type oil skimmer is designed for removing floating contaminants from parts washer bath, coolant sumps, and other oil-contaminated applications. The unit is constructed of stainless steel, utilizes a 4″ wide stainless steel oil skimmer belt, and has a lift-off fiberglass hood which covers internal components. The Aquaskim can remove up to 6 gal/hr of floating oils, depending upon the viscosity and solution condition.
A belt-type oil skimmer removes floating contaminants from the surface of the solution. The 1" belt is constructed of stainless steel and can remove up to 0.5 gal/hr of floating oils.
The exhaust fan system draws steam vapor from inside the washer for venting outside. External ducting is required.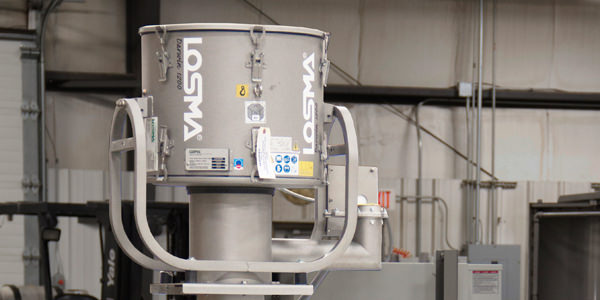 The mist collector exhaust system removes steam from the interior of the machine and vents directly to room atmosphere. Cooler room air is mixed with air from the wash system to assist in reducing moisture in exhaust air. Mist collectors can be used in place of conventional exhaust fans and do not require external ducting.
Micro-filtration includes an externally mounted filter chamber located on the discharge of the solution pump. A stainless steel inner basket holds a disposable bag that filters 100% of a cleaning solution. Filter bags are available in a range of micron sizes, sized based on the application. Filter chambers are available in a variety of capacities, configurations, and either stainless steel or mild steel construction. A contamination sensor can also be added to monitor filters and trigger an alarm condition.
Cleaning chemistry can be automatically added during operation by a water-driven proportional injector. The chemical injector automatically adds the desired percentage of chemistry, mixing water and chemical prior to entering the solution tank.
Additional nozzles are placed to spray down debris on the shed sheets and direct it toward the chip baskets and then to the solution tank. This helps reduce cleaning and maintenance time.
Alliance's exclusive AquaFire drop-in heating elements conserve resources and reduce machine downtime. The design incorporates a submersible watertight stainless steel junction box and tube extension that allows the heater to be mounted to the tank for quick change-out. These elements have an incoloy sheath which resists corrosion. The flat surface geometry prevents debris build-up on the element which extends heater life. Standard heating elements are typically mounted horizontally through the tank sidewall, requiring the tank to be drained prior to inspection or replacement of the heating element.
A light curtain sensor system with mesh guarding can be placed at the load or unload ends of the machine for operator safety. When the light curtain beam is broken, the power is shut off to the conveyor or servo drive to prevent injury.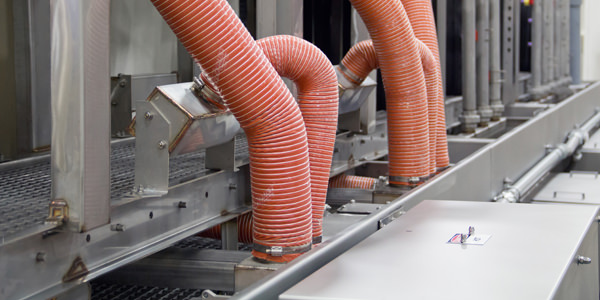 Heated blowoff is used when parts need to exit the machine 100% dry. Air knives and/or air manifolds can be configured to be adjustable.
Rotary indexing parts washers utilize custom fixtures to hold manufactured parts securely and in precise positions or orientations for washing, rinsing, and drying. Spray manifolds with strategically positioned nozzles are utilized for flushing out part features such as blind holes, passageways, hidden cavities, and leading/trailing surfaces. Drying is accomplished through the use of high-pressure blowers and timed compressed air for dislodging moisture from part cavities.  Moving manifolds and probing devices can also be incorporated for cleaning hard-to-reach areas. The benefit of using part fixtures and indexing is that it allows the cleaning system to specifically target part features that require critical cleaning.
Alliance's rotary indexing parts washers can be engineered to run in either manual mode or designed to be integrated with robotic load/unload automation devices. Indexing is accomplished through the use of a servo drive conveyor system and sensors to seamlessly communicate with automated loading and/or unloading devices. Sensors also aid in holding tight position tolerances. Electrical controls can be supplied to specification. Our rotary indexing machines have the technology to account for accurate part positioning and maintain proper cycle times; all critical to the operation of an indexing parts washer.