Conveyor Belt Parts Washers
Aquamaster CB
The Aquamaster CB industrial conveyor belt parts washers are designed for the inline cleaning of a wide variety of manufactured parts. Conveyor belt parts washers are designed primarily for cleaning at higher volume production rates, and for parts ranging from small to large sizes.
The Aquamaster CB parts washer is available in multiple styles depending on the application:
E-Series: Economical and compact conveyor belt parts washer
XE-Series: Conveyor belt parts washer with several ease-of-maintenance features and Alliance-exclusive enhancements
D-Series: Conveyor belt parts washer for cleaning reusable dunnage
Conveyor belt part washers can range from a single wash process zone to multiple zones such as wash, rinse, rust inhibit, ambient blowoff, and heated blowoff. Our equipment features a variety of configurations in process zones, belt sizes, product height clearances, multiple product lanes, special return conveyors, and optional accessories. Standard designs may be all that is required, while endless custom configurations can be engineered to meet the specific parts cleaning needs. Environmentally safe alkaline cleaning chemistry is used in all Alliance aqueous parts washers.
Multi-stage aqueous parts washer for cleaning aluminum, steel, and stainless steel parts
Industrial parts washer for cleaning stainless steel shafts
Industrial parts washer for cleaning stamped and formed parts
Parts washer for removing coolant from knuckles
Cleaning X-Ray tube parts on a parts washer
Parts washer for plastic trays
Plastic tray washer interior
Washing and drying stampings and machined components
Parts washer for cleaning fine blank stampings
Cleaning multiple parts on stainless steel conveyor belt washer
Conveyor belt parts washer with fine filtration
Washing multiple parts on one parts washer conveyor
Cleaning system for removing stamping lube from steel parts
Cleaning parts in baskets
Cleaning parts in baskets on parts washer
Cleaning shock tubes on an industrial parts washer
Industrial part washer for sun gears
Washer for automotive gear components
Cleaning cases, covers, and gear components
Manufacturing industrial parts washer for transmission filters
Parts washer utilizing boiler heat
Washing shock tubes on belt washer
Custom stainless steel parts washing system
Cleaning system for fuel rail cam shells
Industrial parts washer for steering knuckles
Dunnage washer with return conveyor and drying module
Cleaning bars for the alternative energy industry
Washer for agricultural fertilizer containers
Dunnage and plastic tray washer for automotive manufacturing
Stamping house parts washer
Stampings washer with rotational baskets and powered return conveyor
Custom rotational mesh baskets for stampings
Parts washer for automotive connecting rods
Industrial parts washer for exhaust component cleaning
Parts cleaning system with dual conveyors for railroad industry
Cleaning shell casings for the defense and military industry
Large washer for dunnage and totes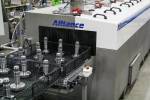 Many manufacturing facilities require the use of dunnage for handling parts. These containers often become soiled with contaminants that are introduced during manufacturing, which can in turn contaminate cleaned parts that are placed back in the containers. With the increased demand for tighter part cleanliness, the need for clean dunnage is becoming more crucial. Alliance has engineered a line of conveyor belt parts washers specifically designed for cleaning reusable dunnage, containers, pallets, vacuum-formed trays, totes, and lids. Dunnage washers are available with single or multiple lanes to accommodate various product sizes and volumes, as well as features such as adjustable lane guide for tall-profile parts and powered entrance/exit conveyors. Clean dunnage is essential to keeping manufactured parts free of contaminants as they are shuttled between operations or being delivered to the end user.
Typical products cleaned in the Aquamaster conveyor belt part washers may include items such as metal stampings, machined castings, fabricated weldments, and plastic containers, just to name a few. Typical contaminants that can be cleaned from manufactured parts may include chips, oil, grease, coolant, stamping lube, dust, and dirt. The Aquamaster line of belt parts washers is versatile and in service in a wide variety of industries.
Request a Quote
Let our team configure the right parts washer for your application.
Features & Accessories
The following features and accessories are available on most Alliance parts washers. Standard features and available optional accessories will vary by machine model.
Conveyor Belt Parts Washers