Alliance Manufacturing, Inc. is a leading US-based supplier of industrial parts washers and parts cleaning systems. We have provided equipment for hundreds of cleaning applications for multi-national corporations to small manufacturing facilities. Read what our customers have to say about the quality of our products and our level of service.
"We needed to automate our process for cleaning bending lube from the I.D. and O.D. of tubes of various sizes, some up to 14 feet long. Alliance Manufacturing was able to provide a cabinet-style cleaning system that incorporated multiple D.I. rinses with the thought of conserving water. The three-tank system was necessary to meet aerospace specifications. Alliance's engineers were innovative in designing an extension for the cabinet to accommodate our larger parts. Our parts are now uniformly clean with the least consumption of D.I. water."
Marc Deramo, Industrial Engineer – Garden Grove, CA (Machine #946)
"We purchased an Alliance Aquamaster CB-1800E, in May of 2017 for cleaning refurbished medical equipment parts.  This unit replaced 2 small, manual washers, and has allowed us to process greater quantities of parts with less labor.  The machine has also eliminated some of the material handling and ergonomics issues related to the manual washers.  The Alliance washer performed so well for us, that we purchased a second, identical unit in December of 2017 for our batch paint and powder coating lines. We have been very pleased with the reliability and the ease of use or both washers, and the responsiveness of Alliance Manufacturing."
Steve Cronce, President – Raphael Industries, Inc., Milwaukee, WI (Machines #856 and #887)
"In early 2018 we purchased an Aquamaster CB-4800XE Conveyorized Belt Parts Washer from Alliance Manufacturing to replace an aging unit and has meet and exceeded our cleaning expectations both in performance and efficiency. We need a solution to clean larger sheet metal panels and machined parts for our OEM and repair business. One of the many selling features for us was the option for a PLC with built-in diagnostics and maintenance messages. Reliable 24/7 cleaning performance confirms our decision to partner with Alliance. The overall experience has been a good one for Bretting. We would certainly purchase from Alliance again if another parts washer is required in our production."
Joe Moran, Manufacturing Engineer – C.G. Bretting Manufacturing Co., Inc., Ashland, WI (Machine #906)
"Since we purchased our CB-1400E a few years ago we have enjoyed uninterrupted operation of the unit. Ease of use and maintenance were key factors in our purchase decision, in addition to outstanding service and support.  Another primary consideration was that the unit is made in the USA or Canada.  It is obvious from first sight that the unit is made with pride and craftsmanship in Fond du Lac, Wisconsin.  All primary components are made in the USA. This matters greatly to the dependability of the unit, not to mention that support of domestic industry is of critical importance for all citizens of the USA and Canada. We have trained many staff to use and maintain the unit and the all mention how easy the unit has been to operate.  I would not hesitate for one minute to purchase another parts washer from Alliance if the need arises.The strong relationship between Alliance and Kyzen (cleaning chemical supplier) has also contributed greatly to the machine's effectiveness. The right machine with the right chemicals means clean parts every time! As a supplier of parts to a wide range of industries including Aerospace, Medical Device and Energy the parts must be clean. Alliance delivers on their promises of great performance, service, and support."
Steve Charlton, President – Free Force Machining Technology, Inc., St. Catherines, ON, Canada (Machine #883)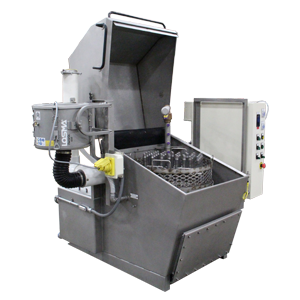 "Alliance Manufacturing provides sound machines that meet all our expectations and perform great under our harsh working environment."
Brian B., Mechanical Engineer – NSK Steering Systems, Bennington, VT (Machines #545, 849, 852, 931, 932)
"My company purchased an Aquamaster CB-1800E conveyor belt parts washer in 2009 for cleaning various brass, stainless steel, and steel machined parts. This machine was a huge step up for my company. Our assembly parts never looked better, and we had a big reduction in wastewater disposal. Other key selling features of the Alliance machine was the built-in maintenance friendly features that keep our down-time to a minimum while maximizing profitability. Our machine is still going strong today, and when a company is looking for a dependable and cost-efficient industrial parts washer, we can highly recommend the Alliance line of equipment. The Alliance CEO and employees were outstanding in giving me the support I needed from the beginning purchase through the startup of this machine. This was truly a great experience."
Jim Evers, Tool Engineering Supervisor – Kidde Fenwal/Carrier, Ashland, MA (Machine #527)
"We needed a parts washer that could clean our stainless steel bearings to tight cleanliness specifications, and our custom-designed Alliance Aquamaster CB-1200E exceeds our cleaning requirements. The machine's reliability has been rock-solid since day one and continues to be an integral part of our manufacturing process."
Mark Donoghue – New Hampshire Ball Bearing, Inc., Laconia, NH (Machine #292)
"Taco Comfort Solutions has been using Alliance parts washers as part of our manufacturing process for over a dozen years. We need reliable equipment to maintain our production output and the Alliance parts washers provide dependable, consistent cleaning results, time and time again."
John Dolan, Manufacturing Engineer – Taco Comfort Solutions, Cranston, RA (multiple machines)
"Gentlemen, I just want to thank you again for making yourselves available for us to meet earlier this week. We really appreciate the open/working relationship demonstrated during our visit – it is very much appreciated!!!"
Steve Schiller, Vice President, Engineering – Manitowoc, WI (Machine #563)
"We purchased our first Aquamaster CB-1200E back in 1999 for cleaning our powdered metal components. Since then, we have purchased over two dozen additional conveyorize belt parts washers in different sizes and configurations that are utilized throughout our three manufacturing facilities. The design of the Aquamaster provides for reliable 24/7 operation that we can depend on to fulfill our production requirements. When our parts involve strict cleaning requirements, we trust that Alliance will deliver."
Andy Reuscher, General Manager of Secondary Operations – Keystone Powdered Metal Company, St. Mary's, PA (multiple machines)
"It has been one month since we lowered the boiler and heat transfer pack to floor level. We are thrilled with how smoothly the machine is working. Heat up time and the quality of cleaning is excellent."
Dan Roeper, President – New Hyde Park, NY (Machine #777)
"Kevin from Alliance was in here yesterday for start-up. Start-up went very smoothly and we are very happy with the machine and the whole experience with Alliance."
Shawn Elierman, Manufacturing Engineer – New Bremen, OH (Machine #812)
"I appreciate all your assistance in getting the parts located and shipped to us as soon as you could. We had the washer back up and running 100% yesterday morning. Thank you again, and Tim, any time you need a reference for your product and your support, I would be more than pleased to recommend your equipment and your staff. Thank you."
Dan Spitler, Maintenance Manager – St. Peters, MO (Machine #74)
"The washer is working quite well with the product we are washing, we hardly use any of the detergent. It seems that if we control the temp, the water itself gets the parts nice and clean."
Duncan McCallum, Maintenance Coordinator – Port Coquitlam, BC, Canada (Machine #694)
"Your company has been one of the more enjoyable places that I've dealt with."
Marcus Erickson, Sr. Manufacturing Engineer – La Crosse, WI (Machine #685)
"I have discussed the equipment review with TJ who came for the runoff. He was very satisfied with how the machine is fabricated and generally impressed with your facility and procedures. Your people are professional and courteous. Please congratulate your team on good work."
Bill McEwen, Manufacturing Manager – Rexdale, Ont., Canada (Machine #695)
"The Alliance machine does an excellent job of cleaning our parts. It saves time by reducing material handling and it delivers parts to the next operation. In addition, with the externally mounted filter chambers, we can filter the water to meet cleanliness requirements. By keeping the water cleaner, it extends the life of the wash solution and chromate bath."
Rick Stansel, Manufacturing Engineer – Fond du Lac, WI (Machine #184)
Request a Quote
Let our team configure the right parts washer for your application.