Nu/Clean™
Inline Aqueous Cleaning System
Available with award-winning Flood Box technology

Touchscreen controls for optimized cleaning

Balanced pressures and flow rates

Fast and efficient drying

Made in the USA

Available in the 800 Series and the 300 Series models
Since 1952, Technical Devices has been supplying the electronics industry with the highest quality production equipment, and has an enviable reputation for after-market service and product support. In addition, Technical Devices continues to be on the cutting edge of cleaning technology with innovative products and features that produce excellent, reliable cleaning results while making a minimal impact on the environment. The Nu/Clean line of aqueous cleaners for printed circuit boards are the safest, quietest, and most energy efficient machines on the market today.
Even with all of these technological and environmental advances, the Nu/Clean aqueous cleaning systems are easy to operate and maintain. The touch screen control system is intuitive and straightforward while being robust enough to control and monitor all critical functions of the cleaning system. The alarms and maintenance screens let the operator know immediately what actions need to be taken. The physical design of the tanks, cabinets, and controls make regular maintenance quick and easy.
With decades of cleaning experience and an established network of customer service personnel, Technical Devices (a division of Alliance Manufacturing, Inc.) is the best choice to meet your electronic component cleaning needs.
Inline Aqueous Cleaning System 1
Inline Aqueous Cleaning System 2
Inline Aqueous Cleaning System 3
Many manufacturing facilities require the use of dunnage for handling parts. These containers often become soiled with contaminants that are introduced during manufacturing, which can in turn contaminate cleaned parts that are placed back in the containers. With the increased demand for tighter part cleanliness, the need for clean dunnage is becoming more crucial. Alliance has engineered a line of conveyor belt parts washers specifically designed for cleaning reusable dunnage, containers, pallets, vacuum-formed trays, totes, and lids. Dunnage washers are available with single or multiple lanes to accommodate various product sizes and volumes, as well as features such as adjustable lane guide for tall-profile parts and powered entrance/exit conveyors. Clean dunnage is essential to keeping manufactured parts free of contaminants as they are shuttled between operations or being delivered to the end user.
Typical products cleaned in the Aquamaster conveyor belt part washers may include items such as metal stampings, machined castings, fabricated weldments, and plastic containers, just to name a few. Typical contaminants that can be cleaned from manufactured parts may include chips, oil, grease, coolant, stamping lube, dust, and dirt. The Aquamaster line of belt parts washers is versatile and in service in a wide variety of industries.
Request a Quote
Let our team configure the right cleaning system for your application.
Flood Box Features
Proven as the best (and often only) way to clean under low-standoff components
Completely submerges the circuit board in kinetic wash fluid
Penetrates between components in densely populated circuit boards
Increases the amount of soak time the chemistry has, to break the surface tension and remove contaminants
Doubles the length of traditional wash sections so you can run at greater speeds for higher throughput
Greatly reduces chemistry loss as compared to spray-in air only wash systems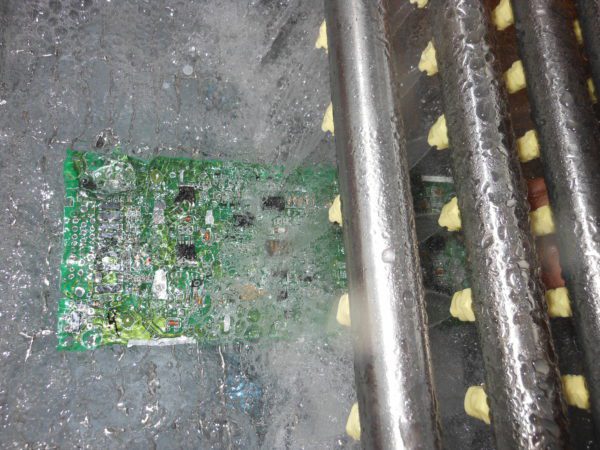 More About the Nu/Clean
Touchscreen Controls
Intuitive touchscreen controls make the Nu/Clean inline aqueous cleaners easy to operate. Robust Windows-based software controls and monitors machine functions. Password controls and recipe storage allow engineers to maintain control of production. With optional remote viewing, process control personnel can monitor real-time production.
Conveyor Systems
Our single or dual belt conveyor systems are customizable to your specific product needs. We offer various pitch and mesh sizes, as well as flight, pockets, and special belt coatings. Our innovative silencing shroud at the end of the conveyor makes the Nu/Clean aqueous cleaner the quietest in the industry.
Quick-Disconnect Spray Bars and Interchangeable Nozzles
The quick-disconnect design on the spray bars makes the Nu/Clean aqueous cleaners make it a simple process to remove and replace spray bars for different applications or to perform regular maintenance. Dozens of different nozzle types and sizes are available for use in the Nu/Clean. This flexibility makes it easy to optimize the cleaning process for various product applications, from low standoff PCBs to glass lenses to helicopter blades.
Chemistry Conservation
The Nu/Clean has many features to limit chemistry loss. The use of air curtains on either side of the wash stage help contain the chemistry. Isolation stages prevent chemistry from contaminating the rinse water. Our innovative exhaust system minimizes chemistry vapor loss throughout the machine.
Pumps and Plumbing
Each of the stainless steel pumps used in the Nu/Clean is selected based on achieving the right balance of pressure and flow. Everything is clearly labeled to make operation and maintenance easy.
Blowers and Drying
Our blowers slide out for easy access. We use high-efficiency blowers that provide the maximum results with the least amount of power consumption. Our new IR heater tunnel, available only on the Nu/Clean 800 Series, provides a powerful added drying section for difficult-to-dry products.
Nu/Clean 800 Series
The Nu/Clean 800 series offers top-of-the-line cleaning. It features incredible wash, rinse, and drying capabilities with plenty of isolation between stages. 15 HP stainless steel pumps offer the right balance of pressure and flow to aid in the removal of residues and contaminants. The air curtain and cascade water knife in the wash section minimize any loss of chemistry. The six air knives (included three heated) in the cleaner powered by two super efficient blowers plus the IR heater tunnel at the end of the drying section provide optimum drying power.
Nu/Clean 600 Series
The Nu/Clean 600 series may be just the right cleaner for your production needs. It has multiple isolation sections to minimize cross-over contamination between prewash, wash, rinse, and drying sections. It is an excellent cleaner for chemistry or water-only processes. The drying section comes standard with six air knives powered by two super efficient blowers, with an option for up to nine air knives powered by three super efficient blowers for even more drying power.
Nu/Clean 300 Series
Our most popular model is the Nu/Clean 318 XL, which is part of our Nu/Clean 300 Series. It features a prewash section for the removal of gross contaminants, followed by a wash section capable of handling chemistry. There is isolation between the wash and rinse sections. A rinse and then a final rinse make sure any contaminants or residual wash solution are removed from the product. A powerful drying section with two super efficient blowers makes sure the product exits fully dry.