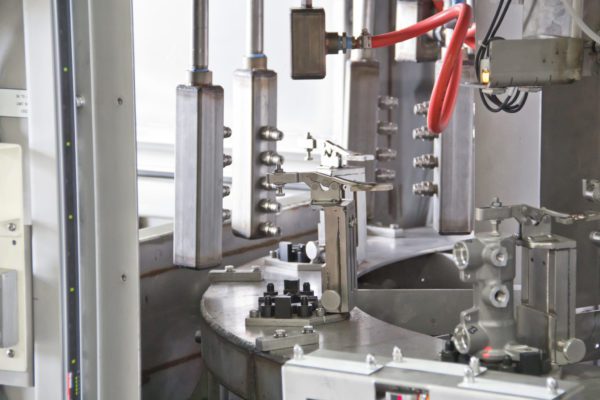 Cleaning and washing are two very important operations in any industrial process since they clear out unwanted debris and protect a product from damage or harm in the long run. Not only do these processes enable the possibility of enhancing the appearance of a product, but they also help to streamline the functionality of the product. The machines designated for these purposes are known as parts washers. Due to technological advancements, manual washers have transformed into, and been replaced by, "automated parts washers."
What are Automated Parts Washers?
Automated parts washers are mechanical tools created to effectively remove dust, oil, grease, dirt, paint, and other contaminants from components with the least amount of human Interface. Automated parts washers prepare various parts for their roles in assembly processes by removing previous packaging, coatings, and chemicals.
High-pressure washers, rotary basket washers, flushing washers, cabinet washers, and various other models are examples of automated parts washers. Automated parts washers are designed to degrease and dry both large and small, numbers of parts.
On the other hand, with the inline washer, parts are fed continuously through various wash, rinse, and dry chambers thereby eliminating pollutants. Inline parts washers enable operators to thoroughly clean high-volume items in a single step. Inline parts washers offer a continuous flow-through operation with wash, rinse, and blow-off cycles. Heated wash and rinse tanks, conveniently-adjustable spray nozzles for 360-degree coverage, and automatic water and solution replenishment are all features available on many inline parts washers.
Types of Automated Parts Washers
As technology has advanced, parts washers have been developed and improved. The majority of parts washers are now automated or semi-automated in order to increase productivity. Some of the prominent types of automated part washers are:
Cabinet-Style Parts Washers
Cabinets for parts washers are designed to process components in small batches. Parts cleaned by washer cabinets are small enough to fit into nearly any manufacturing process. Therefore, they offer an economical way to clean parts. To load a parts washing cabinet, either manual labor, a robot, or a conveyor may be used based on the application. Depending on how the part washer is constructed, baskets, holders, and turntables can be employed to hold the parts. Cabinet washers generally work on the premise that you are cleaning in a batch process, so high volume flushing at elevated solution temperatures, combined with detergents, does an excellent job of cleaning. The downside to a cabinet washer is that the drying cycle occurs within the same chamber as the cleaning, therefore effective drying can take additional energy. With elevated temperatures, parts that are being cleaned will have a tendency to flash-dry when exposed to ambient air temperatures. These washers use less water, save money, and are environmentally friendly.
Automated Ultrasonic Parts Washers
The cavitation effect is used in ultrasonic parts cleaning. Transducers in an ultrasonic cleaning tank produce vibrational energy, which is then transferred to the liquids in the tank to create countless small bubbles that explode onto the tiny cracks, holes, and indentations of a part's surface. This procedure creates a scrubbing action. The nature of this procedure cleans even the most delicate and complex parts and gadgets. An ultrasonic parts cleaner's mechanics consist of a bath, transducers, and heaters that are all connected to a power supply. Ultrasonics in aqueous cleaning baths can be effective, but it does not come without some challenges. When cleaning in a bath, it can be difficult to prevent oils and other contaminants from being redeposited on the part. This is one advantage of spray cleaning versus bath cleaning.
Rotary Drum Washers
Rotary drum parts washers are an affordable option for cleaning large quantities of parts. Parts are washed in this washer utilizing immersion and spray. As immersion flushes and cleans the inside, the spray cleans the parts' exteriors. Rotary drum parts cleaners are designed to process a large number of tiny small to medium-sized parts. A spinning internal helix is a feature of rotary drum washers that allows parts to tumble and move through several cleaning steps. With this type of parts washer, the drum functions as an agitator to transport parts to cleaning zones. Parts being cleaned in a rotary drum washer will have a slight tumbling action, which can aid in the mechanics of the cleaning. Kicker bars can be added to the interior of the drum to aid in the part tumbling. It is not recommended to clean parts that are highly sensitive to part-to-part contact in a rotary drum style machine.
Conveyorized Belt Systems
A conveyor belt system is used to move physical objects, including goods, people, and materials, from one location to another. These conveyors transport the goods by means of a belt, as opposed to alternative conveying methods that use chains, spirals, hydraulics, etc. Industrial conveyor belt parts washers are, therefore, made to clean a range of produced parts in an inline configuration. Conveyor belt parts washers are generally made for cleaning parts with a range of sizes at higher manufacturing volume rates, which makes them extremely versatile and gives them an advantage over other parts cleaning technologies.
Inline-Indexing Systems
Inline-indexing parts washers are made for tasks that call for critical cleaning of components with particular features, including blind holes, tunnels, concealed cavities, deep pockets, and delicate surfaces. Systems for cleaning indexing components are designed for use in production lines and high-volume manufacturing cells. Inline indexing machines are typically designed with the following features:
Tight tolerancing: Prominently, the part presence sensors which can be counted as a fiber optic sensor are employed. These sensors establish whether a part is ready for processing and detect its physical presence, color, and/or shape. The idea behind fiber optic sensors is that as light travels through an optical fiber from a laser or other super-luminescent source, its properties can change in either the optical fiber and arrive at a detector that tracks these modifications.
Unique part fixtures.
Can incorporate probing for wash and blow off.
For high-pressure applications
Can be designed for semi-automatic (manual loading/unloading) on one end to full automated robot pick-and-place
Rotary-Indexing Systems
Rotary-indexing industrial parts washers are created for uses that need precise cleaning of components with unique features, including blind holes, tunnels, concealed recesses, and delicate surfaces. Rotary-indexing cleaning systems are designed for use in manufacturing cells, where available floor space may be constrained. Parts can be manually discharged, or robotically discharged, using the special conveyor system which permits loading and unloading from one convenient location. Parts are transferred through the zones on a rotary table using servo drive indexing with tight tolerance positioning. This type of machine can incorporate stop-motion controls using absolute servo positioning, where the operator can break the cycle and then the motion automatically resumes.
Vacuum Degreasing Systems with Automation
Vacuum degreasing systems are made up of vacuum pumps and tanks that are mounted to a skid or vehicle. Oil is transferred from the skimmer or other source directly to the tank through a hose or pipe thanks to the vacuum created by the vacuum pump. Instead of passing through the pump, the oil enters the tank straight from its source.
The intake of air or water, dirt, and viscous oils can all be handled by vacuum systems. However, the vacuum tank needs to be emptied, which is often accomplished by opening the tank's whole end and allowing the material to exit by gravity. The primary benefit of vacuum operations is their capacity to reduce operating temperatures, which helps users conserve fuel and prevents hydrocarbon streams from decomposing.
For assistance in choosing the right parts washer for your application, contact us to discuss your needs.
The Functionality of an Automated Part Washer
The size, shape, and arrangement of the parts to be washed are the first components to take into account during the design phase. The weight, surface area, and angles of the pieces are other key factors. Options like CNC programming, back or front loading, baskets, trays, a rotary table, and conveyor belts are taken into consideration for the functionality of the automated parts washers.
Following is a brief demonstration of how different components of automated part washers execute the carrying, cleaning, and drying process:
Placement of parts: If the parts are not fragile and are not very large in size, the automated conveyor belt carries and movies the parts in a sequence until it is accurately placed in the collecting basket.
Cleaning Process:

The pumps in the parts washers are designed to operate underwater, with detergent and solvent submersion. The pump's job is to dispense cleaning agents to the cleaning tank. The water is moved continually by pumps from the storage tank to the cleaning tank. Pumps can move 115 gallons per minute (GPM) at 65 psi and run at 185 °F (85 °C). The functioning concept of the pump depends on these two variables, GPM and PSI.

Drying Process: The degree of dryness needed ranges from simple water removal to keep a clean, safe working environment and prevent spills to drying for crucial procedures like thermal deburring, leak testing, and assembly. The main methods of drying are evaporation and physical displacement. The change in vapor pressure between water on the component and the air being utilized for drying determines the rate of evaporation.
Benefits of an Automated Parts Washing System
Like other automated industrial equipment, parts washing systems are used for their efficiency and rapid processing. This is especially true in large production operations where machine, tooling, and forming of parts is an ongoing and continuous process. Aside from the obvious benefits of more-effective cleaning, there are several other benefits related to the purchase of a parts washing system.
Cost-Effective: Conveyor parts washing systems are capable of handling thousands of parts easily and efficiently, therefore labor intensive parts cleaning is no longer necessary.
Labor Time Optimization & Efficiency: Modern manufacturing processes demand meticulous attention to detail. Individual productivity and efficiency increase when a procedure can be started without worker supervision. Human intervention is often not necessary during the component cleaning process until it is finished.
Safe Cleaning & Sustainability: The various sizes of conveyor parts washing systems have filtration systems for recirculating water to save on operating costs and prevent environmental contamination. Using water, heat, agitation, and chemicals suitable for the environment, parts washers provide a quick and safe way to wash parts.
Low Maintenance & Long Lasting: In addition to efficient operation, parts washing systems require little maintenance and can operate for years. The stability and durability of parts washing systems ensures that they will be productive for many years.
Manufacturer Assistance: During the process of planning, purchasing, installing, and operation of a parts washing system, the manufacturer is there at every step of the process and available to train personnel and ensure proper performance.
Customizable & Innovative: Parts washing systems can be configured, customized, designed, and engineered to fit the needs of any operation and process.
Automated Parts Washers at Alliance Manufacturing
Alliance specializes in the design, engineering, and manufacturing of automated parts washing systems. Our award-winning engineering, ease-of-maintenance features, quality construction and focus on sustainability, and efficiency have made us a leading provider of automated parts washers around the world. Our high number of repeat orders from existing customers is a testament to their satisfaction with Alliance products and services.
From small companies to multi-national corporations, our full line of automated parts washing systems are used across a wide range of applications and industries. Whatever your requirements, Alliance is dedicated to providing the best solution for your individual needs. To view our full line of automated parts washers, click here. If you have questions about your specific requirements, please contact us.